If your motorcycle forks have corrosion, pitting or scoring and the seals are leaking then these forks can no longer do their job. The options are, replace the fork tubes or let Rad Hard Chroming repair your forks with Hard Chrome to better than new.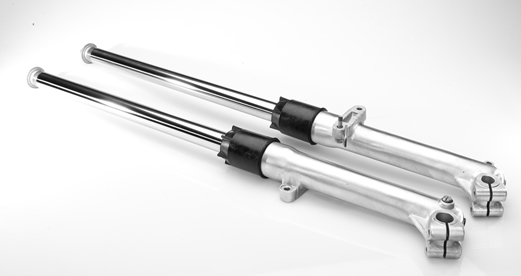 Rad Hard Chroming can refurbish both upside down and conventional fork stanchions. All fork tubes are pre-checked for straightness and inspected for damage that may render the stanchion unrepairable.
Fork repair process
Inspect for damage, check straightness then measure and record stanchion sizing.
Straighten if needed
Pre-grind tube in either centreless or cylindrical grinder to remove surface defects
Forks are prepared for plating, (Blasted, masked and jigged up)
Forks are submerged in a hard chrome electroplating solution and built up oversize.
Forks are removed form chrome bath thoroughly rinsed and all masking material removed
The forks are then finish ground to the original size, or resized to suit bushings or outer leg sizes.
After grinding the forks are finished and polished to give the required surface finish.
Final inspection is carried out
Once completed the forks are securely packaged and can be sent back via nominated transport company, Australia Post, or personally collected. Please send forwarding and contact details with packages.